Haryana ministers list – List of current ministers of Haryana governemnt pdf
Haryana ministers list – List of current ministers of Haryana governemnt pdfHaryana Ministers list is given below:-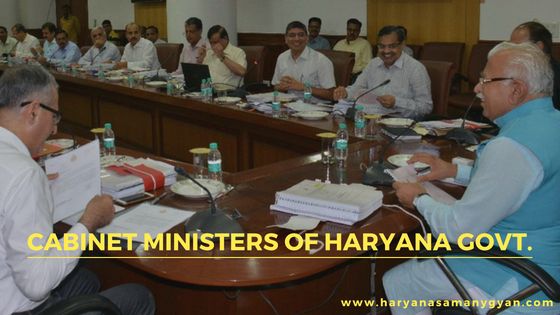 Haryana Ministers List
No
Minister Name
Minister Type
Portfolios
constituency
Political Party

1

Vipul Goyal

Cabinet Ministers

Environment

Industries and Commerce

Industrial Training

Faridabad

BJP

2

Manish Grover

Minister of State (Mos)

Cooperation ( Independent Charge )

Printing and Stationery ( Independent Charge )

Urban Local Bodies

Rohtak

BJP

3

Banwari Lal

Minister of State (Mos)

Public Health Engineering ( Independent Charge )

Renewable Energy ( Attached with Chief Minister )

Bawal

BJP
All Cabinet ministers of Haryana
Cabinet Minister is the main in-charge of a ministry. A cabinet minister may also hold additional charges of other Ministries if no other cabinet ministers are appointed to take charge of that ministries. All Cabinet members are mandated by the constitution to be members of the Vidhan Sabha of Haryana. Cabinet ministers of Haryana and their Portfolios are listed below.
Cabinet Ministers of Haryana at present




No
Minister Name
Ministries / Portfolios
Political Party
Constituency

1

Manohar Lal Khattar

Chief Minister of Haryana

Home

Power

Town and Country Planning and Urban Estates

General Administration

Administration of Justice

Architecture

Electronics and Information Technology

Jails

Personnel and Training

Raj Bhawan Affairs

Renewable Energy

Any department not specifically allotted to any Minister

BJP

Karnal

2

Ram Bilas Sharma

Education and Languages

Technical Education

Tourism

Civil Aviation

Parliamentary Affairs

Archaeology and Museums

Hospitality

BJP

Mahendragarh

3

Captain Abhimanyu

Finance

Revenue and Disaster Management

Excise and Taxation

Planning

Law and Legislative

Institutional Finance and Credit Control

Consolidation

Rehabilitation

E.S.I.

BJP

Narnaund

4

Om Prakash Dhankar

Agriculture

Development and Panchayats

Irrigation

Animal Husbandry and Dairying

Fisheries

Mines and Geology

BJP

Narnaul

5

Anil Vij

Health and Medical Education

AYUSH

Election

Sports and Youth Affairs

Science and Technology

Archives

BJP

Ambala Cantt.

6

Narbir Singh

Public Works (BandR)

Forests

BJP

Badshahpur

7

Kavita Jain

Social Justice and Empowerment

Women and Child Development

Urban Local Bodies

Information, Public Relations

Cultural Affairs

BJP

Sonipat

8

Krishan Lal Panwar

Transport

Housing

Jails

BJP

Israna (SC)

9

Vipul Goyal

Environment

Industries and Commerce

Industrial Training

BJP

Faridabad
Minister of state(MoS) of Haryana
Minister of State (Mos) handles or takes charge of specific responsibility in that ministry. For example, a minister of state in the Education Ministry may only handle Primary Education. There are two types of the state minister in Haryana government, Minister of state with independent charge and Minister of state. "Minister of state" of Haryana and their Portfolios are listed below.
Ministers of State of Haryana

No
Minister Name
Ministries / Portfolios
Political Party
Constituency

1

Bikram Singh Yadav

Agriculture (Attached with Agriculture Minister )

BJP

Kosli

2

Krishan Kumar

Social Justice and Empowerment

Welfare of Scheduled Castes and Backward Classes ( Independent Charge )

Social Justice and Empowerment (Attached with Social Justice and Empowerment Minister )

Women and Child Development (Attached with Women and Child Development Minister )

BJP

Shahbad (SC)

3

Karan Dev Kamboj

Food and Supplies ( Independent Charge )

Forests ( Attached with Forests Minister )

BJP

Indri

4

Nayab Singh

Mines and Geology ( Attached with Chief Minister )

Labour and Employment( Independent Charge )

BJP

Naraingarh

5

Manish Grover

Cooperation ( Independent Charge )

Printing and Stationery ( Independent Charge )

Urban Local Bodies

BJP

Rohtak

6

Banwari Lal

Public Health Engineering ( Independent Charge )

Renewable Energy ( Attached with Chief Minister )

BJP

Bawal
Chief Parliamentary Secretaries of Haryana



Chief Parliamentary Secretaries

No
Secretary Name
Ministries / Portfolios
Political Party
Constituency

1

Shyam Singh

Jails( Attached with Chief Minister )

Revenue

Consolidation and Rehabilitation ( Attached with Finance Minister )

BJP

Radaur

2

Bakhshish Singh Virk

Development and Panchayats

( Attached with Agriculture Minister )

BJP

Assandh

3

Smt. Seema Trikha

Tourism and Hospitality

( Attached with Education Minister )

BJP

Badkhal

4

Dr. Kamal Gupta

Health ( Attached with Health Minister )

BJP

Hisar